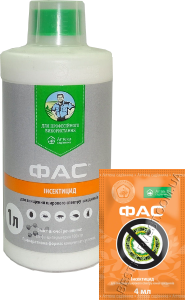 Fas
Highly effective insecticide of the contact-intestinal action of a group of synthetic pyrethroids for the destruction of a wide range of pests of cultivated plants.
Active substance: Alpha-cypermethrin, 100 g/l.
Preparative form: Concentrate, emulsifiable.
Chemical group: Synthetic pyrethroids.
Compatibility: Compatible with other pesticides and agrochemicals, except alkaline. However, before preparing a tank mixture of pesticides, it is necessary to check the preparations for compatibility.
Product Description
Mechanism of action:
Insecticide contact-intestinal action, refers to synthetic pyrethroids. The action of the drug leads to the death of pests due to a strong excitation of nerve cells, which leads to paralysis of the central and peripheral nervous system.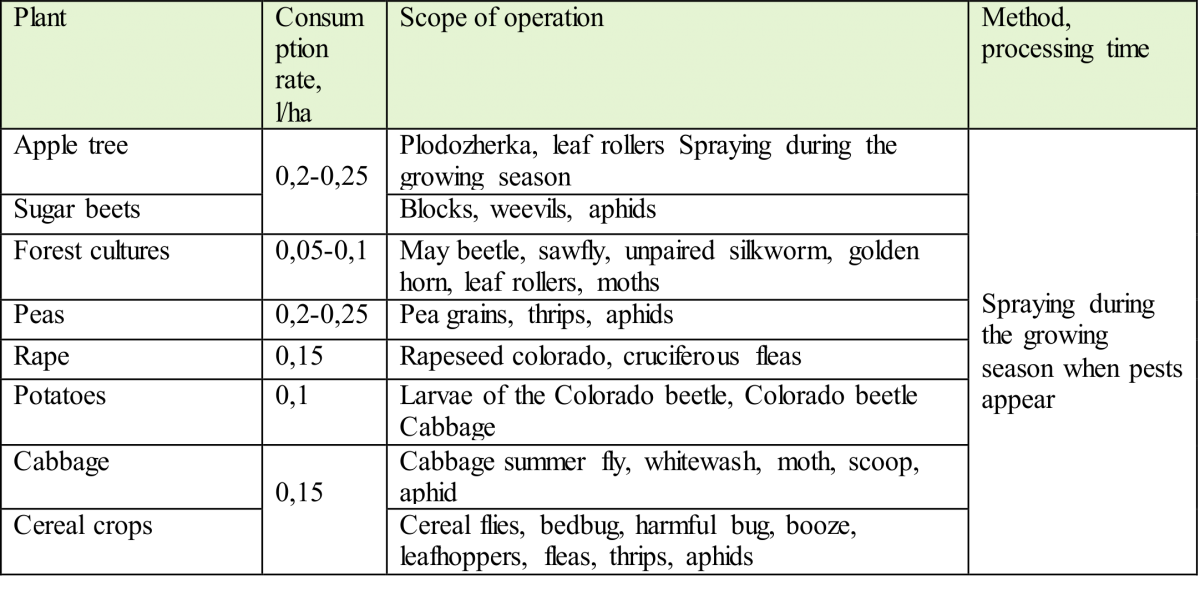 The maximum multiplicity of treatments per season: 2.
Time from last treatment to harvest:
– Fruit and berry plantations, grapes, legumes – 45 days;
– potatoes – 20 days;
The rate of consumption of the working mixture:
150-250 l/ha, field crops, fruit plantations – 500-1000 l/ha
To prepare the working mixture, the spray tank (knapsack sprayer) is filled with clean water for 1/3 part of the volume with the mixing mode switched on and the necessary calculated amount of the preparation is added, the water is filled into the tank to the full volume. When spraying, the blending mode should be switched on to maintain uniformity of the working mixture.
Recommendation:
Spraying should be started at the first signs of pests. The treatment is carried out with the use of highly effective technique, achieving uniform coverage of the aboveground parts of plants with a working mixture and sufficient wetting of the entire surface of the leaves without draining the working mixture from the treated surface. Timeliness of protective measures, high quality of application of the drug significantly increase its effectiveness. Treat with an air temperature of 15-25°C. The interval between treatments is the repeated occurrence of pests. It is not recommended to use the drug under unfavorable conditions (in cold or very hot weather, with excessive moistening and during a period when the culture is in a depressed state), and when the leaves of the plants are wet after precipitation.
Toxicity: WHO classification: 2nd hazard class
The timeframe for workers to leave for machined areas is 4 days, for manual work 10 days after processing
The advantages of the drug:
characterized by low rates of consumption;
effectively acts on the main stages of development of insects;
low toxicity for warm-blooded and safe for the environment;
shows a long-lasting effect on pests;
environmental friendliness and economy of use.
Additional Information
| | |
| --- | --- |
| Pre-packing | 0.5l, 1l, 4ml |