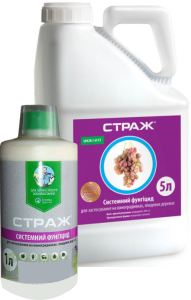 Straj
System fungicide for controlling a complex of diseases of fruit and berry plantations and grapes.
Active ingredient: Cyprodinil, 500 g/l.
Form of preparation: Concentrate of suspension.
Chemical group: Anilinopyrimidines.
Compatibility: Compatible with other pesticides and agrochemicals, except alkaline. However, in each specific case, it is advisable to carry out a compatibility test (absence of sediment, foam, stratification, clotting, incomplete dissolution of one of the preparations, etc.).
Product Description
Mechanism of action: Has an extremely high systemic effect. Cyprodinil disrupts the life cycle of fungi, mainly at the moment of penetration and growth of the mycelium in plant tissues, stops the biosynthesis of amino acids. It is characterized by acropetal and transluminal movement.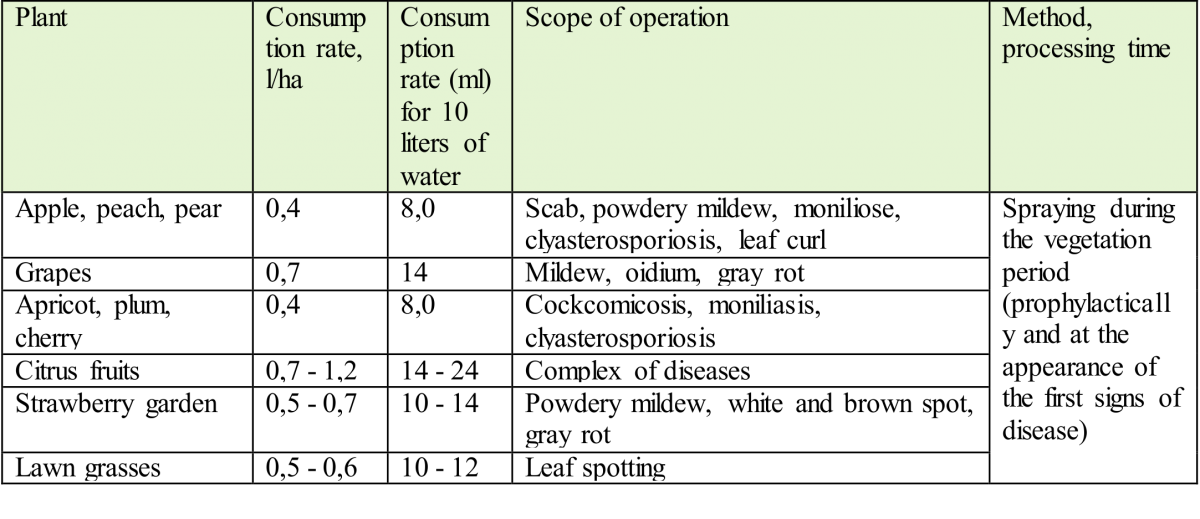 The maximum multiplicity of treatments per season:
– Fruit and berry plantings – 4;
– grapes – 3.
Waiting period from the last treatment to apple harvest:
– peach, apricot, pear – 30 days;
– Grapes-7 days.
The rate of application of the working mixture:
– Fruit plantations 500-1000 l/ha (5,0-10 l/100m²);
– grapes 500-800 l/ha (5,0-8,0 l/100m²);
– field cultures of 200-300 l/ha (2.0-3.0 l/100m²).
The rate of application of the working mixture must be selected depending on the phase of development of the plant and the degree of development of the disease. To prepare the working mixture, the spray tank (knapsack sprayer) is filled with clean water for 1/3 part of the volume with the mixing mode switched on and the necessary calculated amount of the preparation is added to the water tank to the full volume. When spraying, the blending mode should be switched on to maintain uniformity of the working mixture.
Recommendation: The treatment should be carried out under favorable weather conditions (no precipitation, significant dew, air temperature from 10 to 25°C). Optimal phase of application – from the green cone phase to flowering. The best result is achieved with preventive use. Preventative treatments against primary infection of the causative agent of powdery mildew and spotting are carried out at the beginning of the growing season. Additional treatments are performed to prevent the spread of the disease or when the first signs of infection appear with an interval between them of 14 days, depending on the development of the disease and weather conditions. With a high risk of developing the disease, it is necessary to shorten the intervals between treatments (up to 7-10 days). It is not recommended to spray from 3:00 until precipitation.
Toxicity: WHO classification: 3-rd hazard class.
The timeframe for workers to enter the treated areas for mechanized works is 3 days, for manual ones – 7 days after treatment.
The advantages of the drug:
a wide range of protective action;
highly effective against many pathogens of fungal diseases;
is resistant to flushing with atmospheric precipitation;
protective and eradicating effect;
economy and profitability of application;
effectively operates at low temperatures (5-8°C).