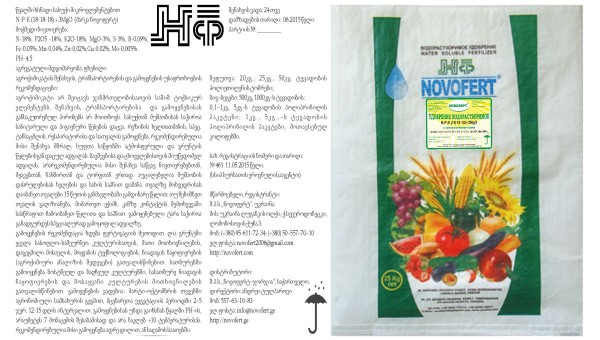 18-18-18+3MgO+ trace elements, 25 kg
The NOVOFERT brand fertilizer is 100% water-soluble, chlorine free, contains a balanced complex of macroelements: nitrogen (N), phosphorus (P), potassium (K) and trace elements: copper (Cu), iron (Fe), zinc (Zn), manganese (Mn ) on a chelate basis, which increases the rate of assimilation of elements up to 90-95%. In addition, boron (B), magnesium (Mg), sulfur (S) and molybdenum (Mo) are included in the composition of fertilizers.
PURPOSE: Applicable for all plants at different stages of growth.DIRECTIONS FOR USE AND DOSAGE: For 10 liters of water without chlorine (dewatered) add 2 measuring spoons of fertilizer and mix (1 measuring spoon corresponds to 10 g). The solution is ready for use by drip irrigation, watering under the root or spraying the leaf surface once every 10-12 days in the morning or evening. The rate of application of the working solution for irrigation is 10 liters per 5 sq.m.; while spraying – 10 liters per 200 sq.m. Apply fertilizer recommended at an ambient temperature of at least + 10 ° C.
Out of stock
Product Description
N-18%, P2O5 -18%, K2O-18%, MgO-3%, S-3%, B-0,09%, Fe-0,05%, Mn-0,04%, Zn-0,02%,Cu-0,02%, Mo-0,005%
PH- 4,5
ADVANTAGES OF NOVOFERT FERTILIZER:
– compensates deficiency of nutrition elements at cultivation even on the most problematic soils.
– this formula has a high content of nutrients (NPK), which allows you to proportionally develop the root system, stem and leaf surface, thereby preparing the plant for fruit bearing.
– improves fruit quality, safety during transportation;
– eliminates stress from the use of plant protection products;
– improves drought and frost resistance, increases immunity to fungal and bacterial diseases;
– the possibility of combined use with virtually all plant protection products in a single working solution. It is necessary to pre-test for the absence of precipitation.
STORAGE CONDITIONS: Protect from moisture and direct sunlight. Keep in original packaging out of the reach of children and animals, away from food, medicines and pesticides.
PRECAUTIONS: Wear protective gloves and goggles. After finishing work, wash hands and face with soap. In case of contact with eyes, rinse immediately with plenty of water. If ingested, drink several glasses of water and induce vomiting. Consult a physician.