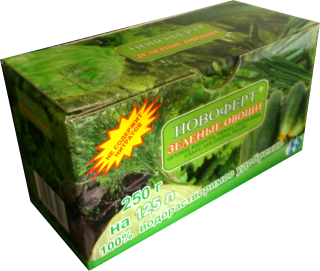 NOVOFERT "GREEN VEGETABLES", 0.25 kg
The NOVOFERT brand fertilizer is 100% water-soluble, chlorine free, contains a balanced complex of macroelements: nitrogen (N), phosphorus (P), potassium (K) and trace elements: copper (Cu), iron (Fe), zinc (Zn), manganese (Mn ) on a chelate basis, which increases the rate of assimilation of elements up to 90-95%. In addition, boron (B), magnesium (Mg), sulfur (S) and molybdenum (Mo) are included in the composition of fertilizers.
DIRECTIONS FOR USE AND DOSAGE: For 10 liters of water without chlorine (dewatered) add 2 measuring spoons of fertilizer and mix (1 measuring spoon corresponds to 10 g). The solution is ready for use by drip irrigation, watering under the root or spraying the leaf surface once every 10-12 days in the morning or evening. Apply fertilizer recommended at an ambient temperature of at least + 10 ° C.
PURPOSE: It is used for top dressing of cucumbers, cabbage, dill, parsley, cilantro, lettuce, onions (feather), celery, radish and other green vegetables prone to the accumulation of nitrates.
FEATURES: At the beginning of the vegetative stage, to stimulate growth, as well as for the development of the root system, 1-2 fertilizing with "Novofert-Multipurpose" fertilizer is necessary.
ADVANTAGES:
– does not contain nitrates;
– promotes more complete preservation of embryonic inflorescences, as well as tying and growth of the fetus;
– increases the yield and quality of products;
– increases the fruitiness of fruit and the safety during transportation;
– stimulates the development of fruiting organs;
– saturates plants with vitamins necessary for human life;
– 48 hours after spraying, the grown culture can be eaten.
Product Description
Product Description
N-3,5%, P2O5 -17%, K2O-30%, MgO-4%, S-14%, B-0,9%, Fe-0,05%, Mn-0,03%, Zn-0,02%, Cu-0,015%, Mo-0,005%
PH- 4,1
STORAGE CONDITIONS: Protect from moisture and direct sunlight. Keep in original packaging out of the reach of children and animals, away from food, medicines and pesticides.
PRECAUTIONS: Wear protective gloves and goggles. After finishing work, wash hands and face with soap. In case of contact with eyes, rinse immediately with plenty of water. If ingested, drink several glasses of water and induce vomiting. Consult a physician.