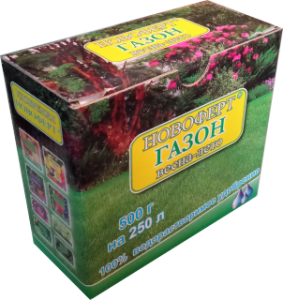 NOVOFERT "Lawn (spring-summer)", 0.5 kg
The NOVOFERT brand fertilizer is 100% water-soluble, chlorine free, contains a balanced complex of macroelements: nitrogen (N), phosphorus (P), potassium (K) and trace elements: copper (Cu), iron (Fe), zinc (Zn), manganese (Mn ) on a chelate basis, which increases the rate of assimilation of elements up to 90-95%. In addition, boron (B), magnesium (Mg), sulfur (S) and molybdenum (Mo) are included in the composition of fertilizers.
PURPOSE: Lawn grasses need fertilizer from early spring to early autumn to restore lost nutrients, the loss of which is associated with frequent cutting.
As a result of the application of the "Lawn (Spring-Summer)" fertilizer, the immunity to adverse weather conditions increases.
For top dressing of the lawn in August-September, it is necessary to select a fertilizer with a low nitrogen content in order to stop the growth of grass and prepare the lawn for wintering.
DOSAGE: Pour 2 scoops of fertilizer into 10 liters of chlorine-free water (settled) and mix (1 scoop corresponds to 10 g).
Application methods: drip irrigation, watering, spraying (sprinkling). Produce every 10-12 days from April to August.
Consumption: when watering, 10 liters of mixture is enough to process 5 sq. m of the area (when spraying, the consumption is 10 liters per 200 sq. m of the area), when sprinkling, a 3% concentration of the working mixture is permissible (3 measuring spoons per 10 liters of water).
Product Description
Product Description
N-6%, P2O5 -20%, K2O-30%, MgO-1%, S-11%, B-0,1%, Fe-0,2%, Mn-0,2%, Zn-0,2%, Cu-0,1%, Mo-0,002%
PH- 4,2 – 4,3
STORAGE CONDITIONS: Protect from moisture and direct sunlight. Keep in original packaging out of the reach of children and animals, away from food, medicines and pesticides.
PRECAUTIONS: Wear protective gloves and goggles. After finishing work, wash hands and face with soap. In case of contact with eyes, rinse immediately with plenty of water. If ingested, drink several glasses of water and induce vomiting.