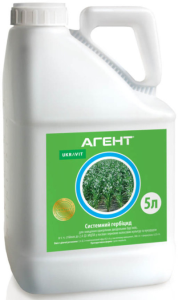 Agent
Post-emergence systemic herbicide for the destruction of annual dicotyledonous weeds, including those resistant to 2,4-D and MCAP (MCPA [2-methyl-4-chlorophenoxyacetic acid]) and some perennial dicotyledonous species in cereal crops, maize, millet , sorghum.
Active substance: 2,4-D (2-ethylhexyl), 452 g/l, in acid equivalent, 300 g/l + florasulam, 6.25 g/l.
Form of the preparation: Suspension-emulsion.
Chemical group: Chlorophenoxyacetic acid derivatives + triazolpirimidines.
Compatibility: Compatible with other pesticides and agrochemicals that have a neutral reaction. Before preparation of working mixtures, it is advisable to check the preparations for compatibility (absence of sediment, foam, stratification, whipping, incomplete dissolution of one of the preparations, etc.). Combine only those components that match the recommended processing time, taking into account the development phase of the culture. It is not compatible with anti-cereal herbicides.
Product Description
Mechanism of action: The active substance of 2,4-D-auxin type, blocks the action of growth hormone and plant development and affects the growth processes of cells in weeds. Florasulam is an acetolactate synthase inhibitor, which is the main enzyme in the biosynthesis of amino acids, like isoleucine, leucine and valine. The combination of two active substances with different mechanisms of action prevents the emergence of resistance (resistance) in weeds.
Spectrum of action:
– Sensitive weeds: wormweed ragweed, gray hickory, field mustard, shepherd's bag, dwarf twister, icteric whitened, drybrush, white mullet, poppy-seed, prickly pear, small-fruited redhead, rape (padalica), plucker, sunflower, drybrush , field jaruta, bugger trash, shirk thrown back.
– Medium-sensitive weeds: field bindweed, yellow osier, pink soybean.

The maximum multiplicity of treatments per season is one. The waiting period from the last processing to harvesting is not established.
The rate of application of the working mixture: – 150-250 l/ha; 2,0-2,5 l/100m². To prepare the working mixture, the spray tank (knapsack sprayer) is filled with clean water for 1/3 part of the volume with the mixing mode switched on and the necessary calculated amount of the preparation is added to the water tank to the full volume. When spraying, the blending mode should be switched on to maintain uniformity of the working mixture. Visible symptoms of herbicidal activity appear only a few days after application of the drug, and complete weed loss is observed after 2-3 weeks, depending on the weather conditions and the species composition of the weeds.
Recommendation: Treatment with the drug should be carried out in the stage of active growth of weeds: in the phase of cotyledons – 2-4 leaves. Spraying should be carried out at an air temperature of 10 to 25 ° C and at a wind speed of not more than 5 m/s. Spraying is not advisable to be carried out immediately after frosts or when they are waiting, and when the plants are in a stressful state (during droughts, excessive soil moistening, pest damage, diseases, frosts, etc.), as well as a sharp drop in night and daytime temperatures
Toxicity: WHO classification: 3 hazard class.
The timeframe for workers to enter the treated areas for mechanized works is 3 days, for manual ones – does not need
The advantages of the drug:
there is a high rate of action on weeds;
is able to control a wide range of weed species;
compatible with other agrochemicals in crops of cereals, corn and cereals;
Used in a wider range of temperatures compared with other forms of drugs 2,4-D;
sufficiently wide "technological window" of application;
absence of aftereffect of the preparation for subsequent crops in the crop rotation;
It is non-toxic to animals and people, safe for the environment.