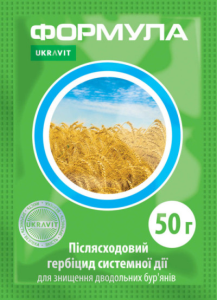 Formula
Post-emergence systemic herbicide for the destruction of annual dicotyledonous weeds in crops of cereal crops, corn and soy.
Active substance: Thifensulfuron-methyl, 750 g/kg.
Form of the preparation: Granules, dispersible in water.
Chemical group: Sulfonylurea derivative.
Compatibility: Compatible with other pesticides and agrochemicals, except alkaline. Before preparing the working mixtures, it is advisable to check the preparations for compatibility (absence of sediment, foam, stratification, kneading, incomplete dissolution of one of the preparations, etc.). Combine only those components that coincide with the recommended processing time, taking into account the development phase of the plant. Do not mix with organophosphorous insecticides. The interval between such treatments is not less than 10 days.
Product Description
Mechanism of action: Systemic action. Tipensulfuron-methyl penetrates into weed plants through leaves, stems, is absorbed by them and accumulates at growth points, stopping cell division, growth of shoots and root system in susceptible weeds.
Spectrum of action: Annual dicotyledonous weeds.
Sensitive weeds: Veronica (species), gorchak (species), mustard mustard, no need (species), stellate medium, Canopy of Theophrastus, swan spreading, white marie, poppy wild, gills (species), bedstrawer, sunflower , wildland radish, chamomile (species), kurai, violet (species), spreader spreader, nettle (species), shepherd's bag usual, sorrel (species), medicinal drybrush, common sphygel, field field, spurge Lozian, dandelion officinalis , cress is croup-shaped.
Medium-sensitive weeds: wormwood ragweed, yellow osier (field), datura common, medicinal dandruff, annual copepod, poppy wild, common sporich, cornflower blue.
Weeds are weakly susceptible: the convolvulus of the field, the spurge, the galinsoga the small-colored, the nightshade black.

The maximum multiplicity of treatments per season: one. The waiting period from processing to harvesting is not established.
The rate of application of the working solution: 150-250 l/ha; 2,0-3,0 l/100m². To prepare the working mixture, the spray tank (knapsack sprayer) is filled with clean water for 1/3 part of the volume with the mixing mode switched on and the necessary calculated amount of the preparation is added to the water tank to the full volume. When spraying, the blending mode should be switched on to maintain uniformity of the working mixture.
Recommendation: It is recommended to add TANDEM adhesive at the rate of 150 ml per 100 liters of water when spraying, regardless of whether the preparation is used in the mixture or on its own. Treatment should be carried out during a period of intensive growth of culture and weeds (the phase of cotyledons is 2-4 leaves). For 7 days before or after application of the preparation, do not inter-row tillage.
Recommended tank mixtures:
– Corn: Formula 12 g/ha + Miladar 1.25 l/ha + surfactant "Tandem" 0.2 l per 100 liters of water.
– Cereal crops. Formula 10 g/ha + Goliath 0.7 l/ha + surfactant "Tandem" 0,15 l per 100 liters of water.
It is not recommended to use at temperatures below 12°C and above 25°C. In dry and hot weather, spraying is done in the morning and evening hours. It is not recommended to use the drug under unfavorable conditions (in cold or very hot weather, with excessive moistening and at a time when the weeds are in a depressed state), and when the plants are wet after precipitation. It is not recommended to make tank mixtures with preparations from the group of organophosphorus compounds (Dimevit, Chlorpirivit-agro). The interval between treatments in such cases should be at least 10 days.
Toxicity: WHO classification: 3 hazard class.
The timeframe for workers to enter the treated areas for mechanized works is 3 days, for manual ones, they do not need.
The advantages of the drug:
selective in plant;
wide "technological window" in application;
a wide spectrum of action (destroys more than 30 common types of weeds);
destroys some perennial weeds that germinate from both seeds and rhizomes;
stops the development of weeds within 3 hours after application;
does not limit the alternation of crops in the rotation;
low rates of consumption;
convenient packing.