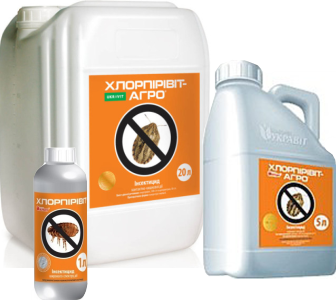 Chlorpyrivit-Agro
Combined contact-system wide-spectrum insecticide for pest control.
Active ingredient: Chlorpyrifos 500 g/l, Cypermethrin 50 g/l.
Preparative form: Concentrate, emulsifiable.
Chemical group: Organophosphorus compounds + synthetic pyrethroids
Compatibility: Compatible with other pesticides and agrochemicals, except alkaline. However, before preparing a tank mixture of pesticides, it is necessary to check the preparations for compatibility.
Product Description
Mechanism of action:
Insecticide with a clear-cut contact-systemic action and fumigation effect. The drug is an inhibitor of cholinesterase synthesis. It acts on the nervous system of pests, causing paralysis, which leads to their death.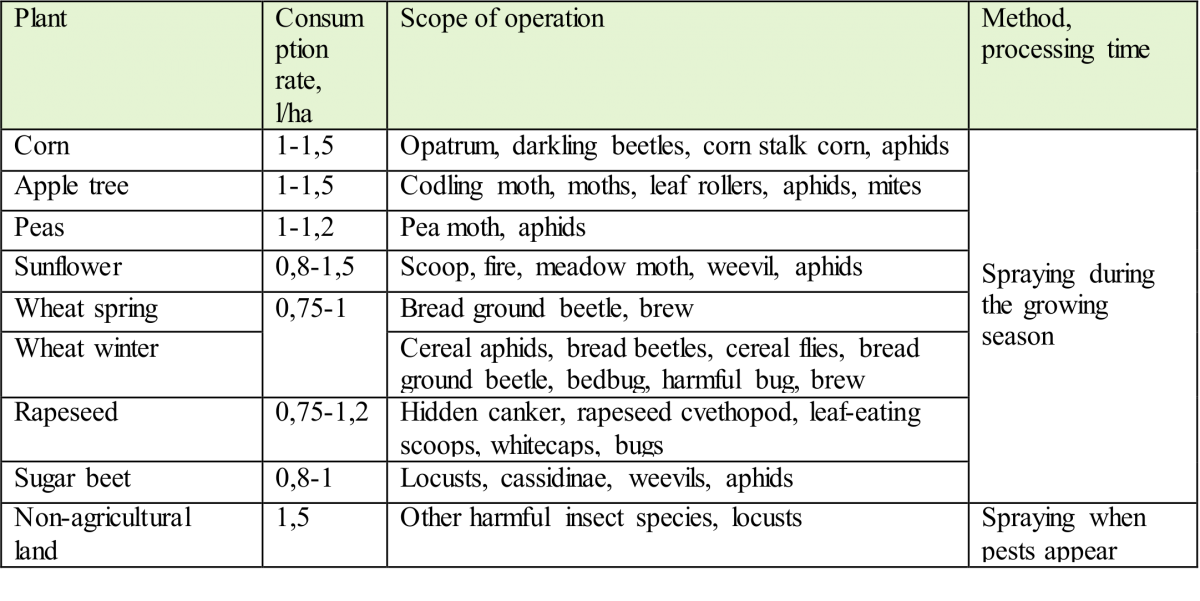 The maximum multiplicity of treatments per season: 2.
Time from last treatment to harvest:
– Fruit and berry plantations, sugar beet – 40 days;
The rate of consumption of the working mixture:
Field crops -150-250 l/ha, fruit plantations – 500-1000 l/ha.
To prepare the working mixture, the spray tank (knapsack sprayer) is filled with clean water for 1/3 part of the volume with the mixing mode switched on and the necessary calculated amount of the preparation is added, the water is filled into the tank to the full volume. When spraying, the blending mode should be switched on to maintain uniformity of the working mixture.
Recommendation:
The drug should be used when pests appear, when their multiplicity exceeds the economic threshold of damage. Timeliness and high quality of carrying out application technologies contribute to the effectiveness of the preparation. Treat with an air temperature of 10-25°C. Depending on the type of pest, the rate of application and environmental conditions, the protective effect can be 21 days. To achieve maximum effectiveness, Chlorpyrivit-Agro should be applied evenly to the leaf surface without draining.
The interval between treatments is the repeated occurrence of pests. It is not recommended to use the drug under unfavorable conditions (in cold or very hot weather, with excessive moistening and during a period when the culture is in a depressed state), and when the leaves of the plant are wet after precipitation.
Toxicity: WHO classification: 2nd hazard class.
The timeframe for workers to leave for machined areas is 4 days, for manual work 10 days after processing.
The advantages of the drug:
two-component preparation for the control of a wide range of pests, including ticks;
rapid contact and systemic action of the drug;
low rate of consumption;
compatible with other plant protection products;
at observance of regulations of application does not show phytotoxicity;
it is possible to use the aircraft-chemical method.