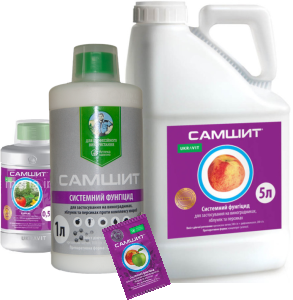 Samsheet
System fungicide from a complex of diseases of apple, pear, peach and grapes.
Active ingredient: Kresoxim-methyl, 100 g/l + difenoconazole, 200 g/l.
Form of preparation: Concentrate of suspension.
Chemical group: Strobilurin group and triazole derivatives.
Compatibility: Compatible with other pesticides and agrochemicals, except alkaline. However, in each specific case it is advisable to check the preparations for compatibility (absence of sediment, foam, stratification, clotting, incomplete dissolution of one of the preparations, etc.).
Product Description
Mechanism of action: Has an extremely high systemic effect. Cresoxim methyl inhibits mitochondrial respiration due to inhibition of cytochrome c-reductase activity. Once on the surface of the plant, the active substance suppresses spore germination and sporulation of phytopathogenic fungi. Diphenoconazole penetrates the plant tissue, completely suppressing the growth of the subcuticular mycelium, which reduces the level of sporogeny of the pathogen.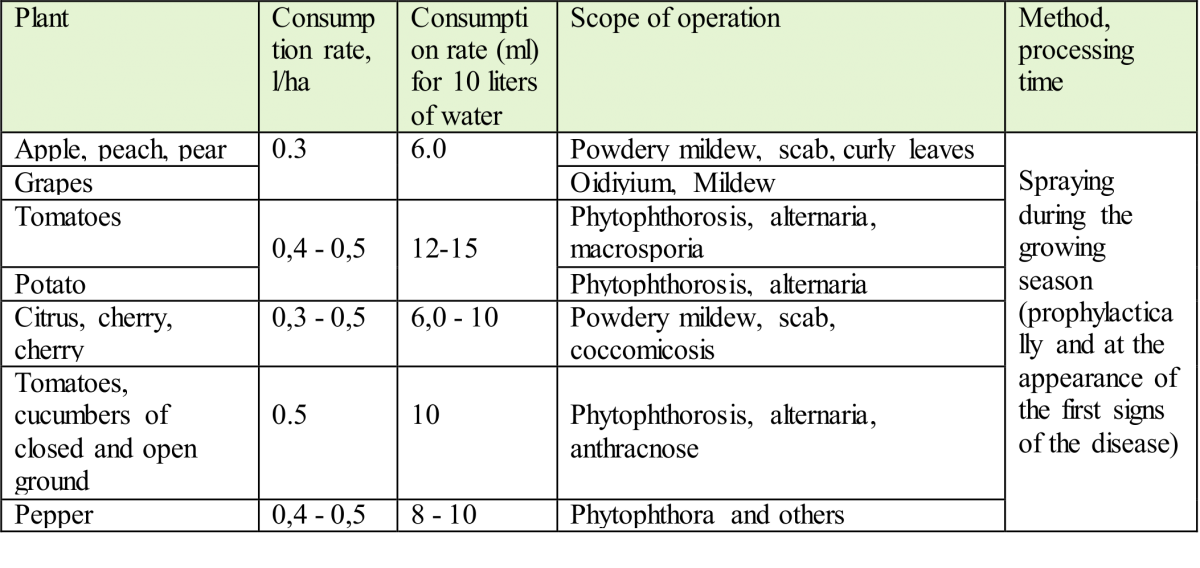 The maximum multiplicity of treatments per season: 3.
Waiting period from last processing to harvesting:
– fruit and berry and grapes – 30 days;
– other cultures – 14 days.
The rate of application of the working mixture:
– Fruit plantations 500-1000 l/ha (5,0-10 l/100m²);
grapes 500-800 l/ha (5,0-8,0 l/100m²);
field crops are 200-300 l/ha (2.0-3.0 l/100m²).
The rate of application of the working mixture must be chosen depending on the phase of development of the plant and the degree of development of the disease. Minimum rates of consumption are used at the beginning of the growing season and a low infectious background; maximum – with a sudden development of the leaf surface and a high infectious background. The interval between treatments should be 10-14 days, depending on the prognosis of disease development and weather conditions favorable for the development of pathogens.
To prepare the working mixture, the spray tank (knapsack sprayer) is filled with clean water for 1/3 part of the volume with the mixing mode switched on and the necessary calculated amount of the preparation is added to the water tank to the full volume. When spraying, the blending mode should be switched on to maintain uniformity of the working mixture.
Recommendation: The treatment should be carried out under favorable weather conditions (absence of precipitation and considerable dew, air temperature from 15 to 25°C).
Toxicity: WHO classification: 3-rd hazard class.
The timeframe for workers to enter the treated areas for mechanized works is 3 days, for manual ones – 7 days after treatment.
The advantages of the drug:
a wide range of protective action;
highly effective against many pathogens of fungal diseases;
is resistant to flushing with atmospheric precipitation;
improves the quality of products, increases the number of fruit formations;
significant cost savings;
decrease in probability of occurrence of resistance in pathogens.
Additional Information
| | |
| --- | --- |
| Pre-packing | 0.5l, 1l, 3ml, 5l |