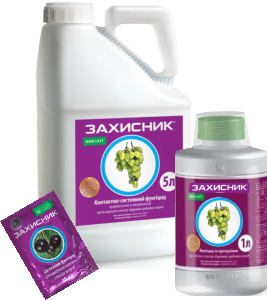 Zakhisnik
Fungicide of systemic action against a wide range of plant diseases.
Active ingredient: Thiophanate-methyl, 500 g/l.
Form of preparation: Concentrate of suspension.
Chemical group: Benzimidazoles.
Compatibility: Compatible with other pesticides and agrochemicals, except alkaline. In each specific case it is necessary to check the preparations for compatibility (absence of sediment, foam, stratification, whipping into tangles, incomplete dissolution of one of the preparations, etc.).
Product Description
Mechanism of action: Systemic fungicide of protective and therapeutic action. The active substance is sorbed by the aerial vegetative organs of plants, spreads acropically through the vascular system (from the bottom up), inhibits the fission of the cell nucleus, reduces the growth of the fungus, and stops respiration, and as a result delays the production of mycotoxins.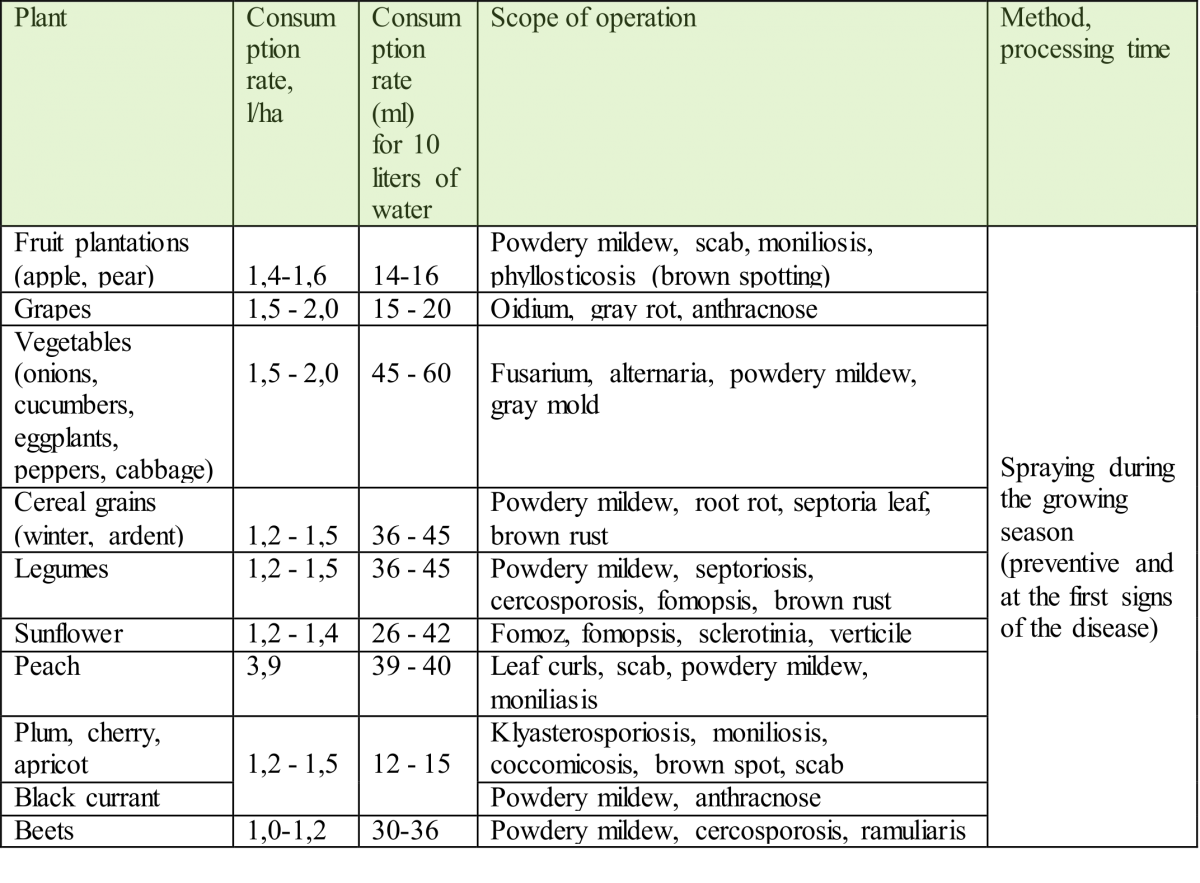 The maximum multiplicity of treatments per season:
– fruit and berry plantations and grapes – 3;
– other cultures – 2.
Waiting period from last processing to harvesting:
– fruit plantations, beans, grains, sunflower – 20 days;
– grapes – 30 days;
– Vegetable – 15 days.
The rate of application of the working mixture:
– Fruit plantations 500-1000 l/ha (5,0-10 l/100m²);
– grapes 500-800 l/ha (5,0-8,0 l/100m²);
– field crops of 200-300 l/ha (2.0-3.0 l/100m²).
To prepare the working mixture, the spray tank (knapsack sprayer) is filled with clean water for 1/3 part of the volume with the mixing mode switched on and the necessary calculated amount of the preparation is added to the water tank to the full volume. When spraying, the blending mode should be switched on to maintain uniformity of the working mixture.
Recommendation: Spraying should be done prophylactically to prevent the onset of disease or if there are first signs of injury. Timeliness of protective measures, high quality of application technologies, favorable weather conditions (lack of precipitation, significant dew, air temperature from 15 to 25°C) is the key to effective action and high yields.
Toxicity: WHO classification: 3-rd hazard class.
The timeframe for workers to enter the treated areas for mechanized works is 3 days, for manual ones – 7 days after treatment.
The advantages of the drug:
unique combination of preventive, curative and protective properties;
rapid and simultaneously prolonged stable protective action (more than 2 weeks);
controls simultaneously a wide range of plant diseases;
rapid "stop-effect" – stops the development of the disease immediately after treatment;
due to the extended effect of the action, significant savings are achieved;
the best preparation for the treatment of mechanically damaged plants (after breaking off branches, pruning, hail, etc.).