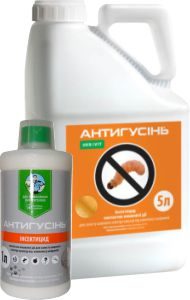 Antigusyn
INSECTICIDE OF CONTACT ACTION FOR PROTECTION OF A WIDE RANGE OF CROPS FROM PEST COMPLEX.
Active ingredient: Lambda-cyhalothrin, 50 g/l.
Preparative form: Suspension concentrate.
Chemical group: Synthetic pyrethroids
Compatibility: Compatible with other pesticides and agrochemicals, except alkaline ones. However, before preparing a tank mix of pesticides, it is necessary to check the preparations for compatibility.
Product Description
Mechanism of action: Contact-intestinal action. The mechanism of action is to damage the central nervous system of the pest, which causes its rapid death. The drug exhibits acaricidal and repellent properties.
Consumption rate of the working mixture: on field crops – 200-300 l/ha, on fruit plantations – 500-1000 l/ha.
To prepare the working mixture, the tank of the sprayer (knapsack sprayer) is filled with clean water to 1/3 of the volume with the mixing mode turned on and the required calculated amount of the drug is added, water is added to the tank to the full volume. When spraying, the mixing mode must be turned on in order to maintain the uniformity of the spray mixture.
Recommendation: The treatment is carried out using ground equipment, achieving uniform coverage of the leaves and stems of plants with a mixture. High-quality use of the drug, timeliness of protective measures, high manufacturability of the drug, favorable weather conditions increase the effectiveness of the drug. The optimum temperature for processing is 15-25 ° C, with a wind speed of not more than 2 m/s
Toxicity: hazard class 2 (acute inhalation toxicity).
Terms for workers to enter the treated areas for mechanized work – 4 days, for manual work – 10 days after processing.
Advantages of the drug:
a unique form of the drug, which makes the drug more effective than other insecticides;
a broad-spectrum insecticide with contact and intestinal action;
the effect of the drug is observed immediately after treatment;
high solubility and long duration of action;
lack of phytotoxicity for the crop;
compatible with other plant protection products and agrochemicals.
Additional Information
| | |
| --- | --- |
| Pre-packing | 0.5l, 15ml, 1l, 5l |